For many, Facebook has become a daily activity, much like eating and sleeping. It's a place to document their adventures, milestones and thoughts with their peers. Now, active sharing by users is being replaced by automated sharing via Facebook's Open Graph, allowing apps to share a user's identity through where they are, who they're with and what they're doing online.

Content sharing is nothing new. Virtually all sites have adopted the 'Like' button to socially share content. However 'Like' is a very general term. In early 2012, Facebook launched the new Open Graph which would allow users to "read", "listen" and "love" things instead. In this way, the Open Graph can be utilised as a full media consumption platform, rather than just a social sharing or discovery platform.
As Zuckerberg said in 2010, "Yelp is mapping out the part of the graph that relates to small businesses. Pandora is mapping out the part of the graph that relates to music. If we can take these separate maps of the graph and pull them all together, then we can create a Web that's smarter, more social, more personalised and more semantically aware." HIs dream is now becoming a reality.

So, how does it work?
When a user is browsing an app or website with their Facebook identity, the app can automatically publish information about a user's interaction to their Facebook page. This information, called Actions and Objects, contains clickable links, allowing friends of friends to click on an interesting story in the Timeline or Ticker, and go directly to a website or mobile application.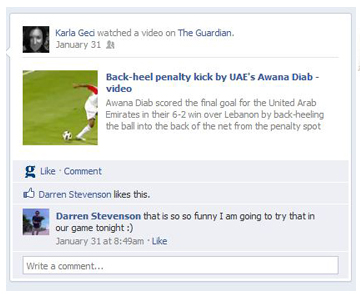 Open Graph Facebook updates are becoming more and more commonplace as developers realise the power of integration:
Mobile app Viddy gained 25 million new users in the month after it integrated with Open Graph
Video app USA Today Ad Meter gained 120 additional users for every 100 pieces of content shared from the app, reaching more than 6 million unique users
In two months, 9 million people added the Dailymotion app to their Timeline, with more than 2 million stories published back to Facebook
Socialcam's integration with Open Graph jumpstarted its growth. Web view traffic to Socialcam through Facebook skyrocketed from around 10 million active users to 40 million in just two weeks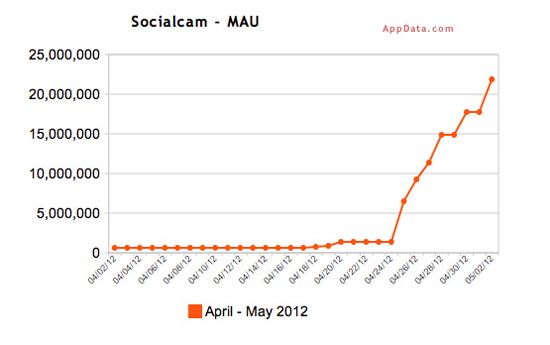 So, what makes Open Graph so special? Marketing on Facebook is all about social discovery, or the things you learn from your friends. The Open Graph makes sharing easy, interactive and instantaneous, allowing developers and brands to significantly increase readership. These are the main features of the Open Graph:
Relevant Object and Actions: The developer can define the terms used to label a user's activity with the website or app.
Automated Publishing: Open Graph apps can publish stories automatically rather than asking for permission for each update. To allow this to happen, the user must grant permission, but only once.
Qualified Referral Traffic: All referral traffic from Facebook to the app or website arrives logged in to Facebook.
Actionable Links: The links accompanying Objects and Actions are customisable. For example, instead of simply Liking or commenting on a Fab product, a user can Fave the product so it shows on their timeline.

Best Practise
As well as being a benefit, one of the major pitfalls of the Open Graph is automated publishing, as this form of consumption doesn't suit everyone. However, Facebook has recently moved to make permissions more transparent. Developers now have control over the content in the permissions dialog, granting users insight into what they're signing up for and what the app will have access to.



The key to integrating Open Graph with as few privacy concerns as possible is to be honest, open and transparent. Make it clear to users what type of data will be used, while demonstrating the benefits of personalisation at the registration process. It's also important to offer a clear On/Off control, and an alternative experience for users who do not authorise the app. This will keep users engaged and provide opportunities for authorisation later.

Overall, the opportunities in Open Graph are enormous, as it increases your brand's audience potential through content discovery and sharing. We predict that Facebook will be woven into the fabric of almost every popular app - making the social network more irreplaceable.

We want to hear your thoughts - have you encountered the Open Graph, or want to use it to market your business? Comment below!
Comments