Within the next month, everything you know about Facebook Fan Pages will change. Facebook Timeline for Brands is now being rolled out, and will be the default by March 30.
It's different to what you're used to, with the demise of popular features including the famed default landing tab, but with all new layout, marketing and administration features to take advantage of. Read on to discover the new changes, and best marketing practises for brands transitioning to the new fan page format.

Layout: Photo and Chronological Timeline
Facebook Timeline for Brands is similar to Timeline for personal profiles, focusing on the past as much as the present. This feature presents an opportunity for brands to emphasize chapters in their history that are relevant and interesting to fans. Did you know American Express began as a courier service in the late 19th century? Or that Coca Cola was invented as a treatment for headaches? Sharing a brand's back story - right back to it's humble beginnings - stimulates conversation, and helps humanise a faceless business.

Go through your company's history and mark milestones (business founded, product launched, store openings, new staff) to construct a narrative for your audience. Accompany your milestones with images for full effect.
For example, Ben & Jerry marked the introduction of "More Fantastic Flavours" as a milestone in 1999. When users navigate via the timeline sidebar, they can view key events throughout the brand's history.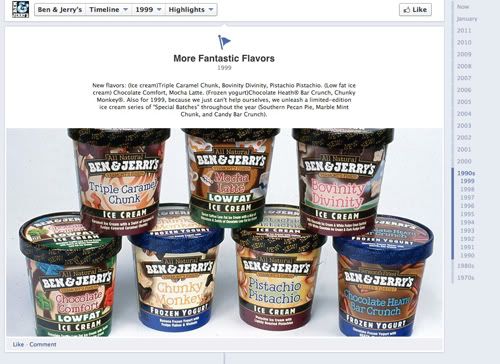 Of equal importance is the Timeline's cover photo - an 815 x 315px image that should capture attention and introduce fans to the brand. However, the graphic cannot drive any action to benefit your business. There are strict guidelines, that stipulate cover photos cannot include:
Price of purchase information, such as "40% off" or "Download it at our website";
Contact information such as website address, email, mailing address, or information that should go in your Page's "About" section;
References to Facebook features or actions, such as "Like" or "Share" or an arrow pointing from the cover photo to any of these features;
Calls to action, such as "Get it now" or "Tell your friends".
Think visually about your brand values to construct a cover photo that tells your story, is pleasing to the eye and omits promotional material.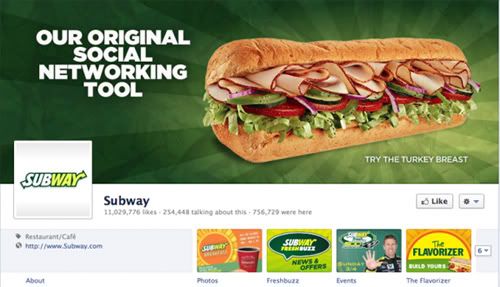 Marketing: Apps, Pinned Posts & Ads
In the new Timeline for Brands, you cannot set a default landing Page - the bread and butter of Facebook marketing. What's more, Timeline has reduced app visibility, with apps now displayed in rectangular tabs underneath the cover photo. There are only four tab panels viewable at any given time - one of which is occupied by Photos. To see more apps, users must click the drop down box. In addition to changes to the visibility of apps, the content of applications has been altered. The new Timeline layout has replaced the existing 520px width configuration with a new 810px layout. In addition, applications will need new application icons at 111 x 74px.





Overall, marketers need to change their entire game plan - the configuration of apps, the app's visibility, and how they direct traffic to the tab. It's against Facebook's guidelines to point an arrow to the tab with a call to action in the cover photo, so what's left? Facebook has introduced a new feature which is of interest, allowing brands to "Pin" a post to the top of the Timeline (distinguishable by an orange flag), so it precedes any other content. While a pinned post only remains for seven days, it's the first thing a user sees when visiting your page. In this way, pinning posts to the Timeline's prime real estate will become the norm for highlighting or linking promotional material.


What's more, Facebook ads can still guide clicking users directly to an application, which will increase reliance on Facebook advertising campaigns.

Relationships: Private Messaging & Friend Activity
The new Timeline for Brands will be more user-centric, with friend activity prominently featured. When you visit a page, you will be able to see how many of your friend's have liked the brand, as well as what your friends are saying about it, whether it's positive or negative. The prominence of the friend activity box has enormous implications for user engagement and whether a new user clicks Like or not. The onus is on the brand to engage customers and foster positive social recommendations through relevant stories, exceptional service and regular promotions.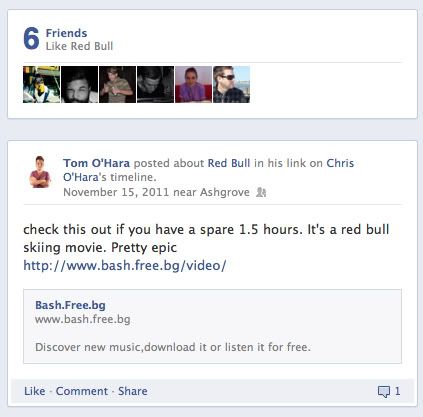 In addition, Facebook has introduced the ability for brands to send and receive private messages via their company Timeline. This is great for timely, personalised customer service, as well as removing negative conversations from the public Timeline. If you don't want to receive private messages from fans, you can turn this feature off in admin settings.

Management: New Admin Tools
Changes have also been made to the Timeline's back end, with the introduction of a new format which is simpler to use, displaying latest notifications, private messages and a snapshot of page analytics. Most importantly, admins can alter page posts by navigating to the Activity Log and using the drop-down menu to star, hide, change dates and delete stories. This means that administrators are always in control of what posts are prominent on the timeline.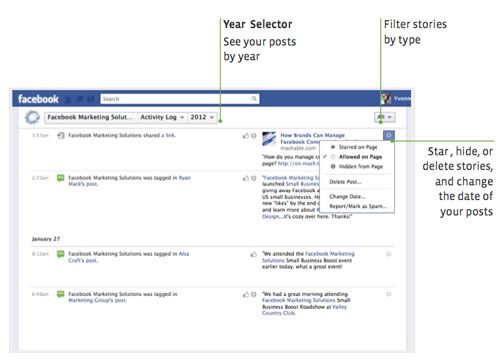 Facebook Timeline for Brands is more interactive, more visually appealing and more story-focused. However, do not lose focus on the power and importance of the news feed and providing engaging, valuable content.

For more information on implementing the new Timeline for Brands, contact Vivo Group
Comments