Providing poor customer service has always been dangerous for brands, but thanks to social media, the game has changed. Issues are now aired in the public arena, and the smallest whimper of discontent has the potential to spread instantly and become a full-blown disaster with an immediate and far-reaching impact.

In our age of connectivity and social networking, the voice of the customer has never been more powerful. And whether you know it or not, your customers ARE talking about you online. They're taking to their Facebook profiles, Twitter feeds and blogs to air their feedback, whether positive or negative.

The question is, are you listening?
Apparently not. A recent survey by evolve24 found that 71% of customer complaints remain unanswered on Twitter. Yet, consumers increasingly want to be engaged online, with 43% of consumers saying that companies should use social media to solve customer's problems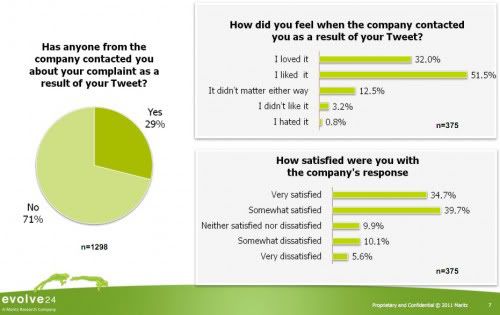 The problem is that many companies still use social media tools to push information, rather than using these channels to "listen in" on other's conversations. However, at it's core, social media is a two-way channel, which levels the playing field by enabling customers to interact directly with the business if they have a question, concern or feedback. By responding, you generate goodwill and a sense of being cared about, which has positive implications for your company's reputation and transparency. In this highly competitive market, this could be the difference between your customers choosing you over your competitors.

Approaching customer service online



This is your opportunity to turn a public complaint into a demonstration of five star service. Here are our top tips for customer service in the social media realm:
First, you need to know where your consumers are talking, and what they're saying. Monitor your Facebook and Twitter feeds, set up Google Alerts and utilise the Twitter search bar. On Twitter, search for your @ handle, your business name and your products
Set policies and processes for reacting. Who will address the issue? How will you approach the feedback to quell negative comments and amplify positive ones?
Be prepared to respond quickly and cordially - 55% of consumers expect a response the same day to an online complaint
Show your customer that you care, and that you will do everything in your power to rectify the problem. Remember, the customer is always right
If your customer has a serious issue with no quick resolution, offer an email address in order to take the conversation out of the public space
Don't just respond to negative reviews. Genuinely thank customers publicly for a positive review to foster future word-of-mouth recommendations

But wait, there's more!
Listening across your social media channels not only allows you to respond to customer discontent, it also enables you to gather insights, intelligence and market research in real-time. Customers are continuously giving feedback about product offerings, customer service and other business operations. Take these recommendations on board to improve your marketing effectiveness and social engagement.

Do you use your social media for customer service or have a success story to share? Comment below, we'd love to hear your feedback!
Comments